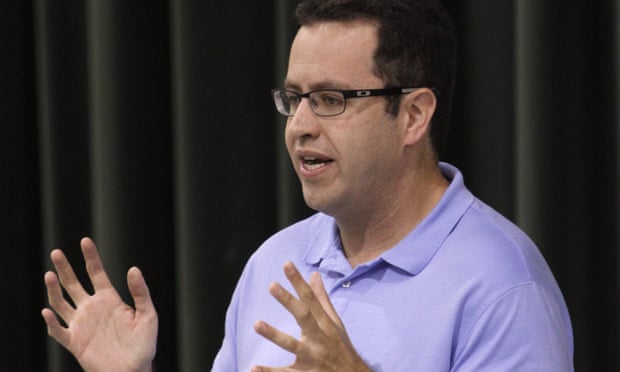 Authorities raided Fogle's home in Zionsville, Indiana, telling local TV news that they were serving warrants related to child abuse images
The Subway restaurant chain is suspending its relationship with longtime spokesman Jared Fogle amid a police investigation.
Federal authorities on Tuesday raided the home of Fogle – the American hero of 21st-century weight loss powered by fast food – apparently in connection with an investigation into child abuse images.
Authorities entered Fogle's home in Zionsville, Indiana, as local news reports showed trucks as well as state and federal investigators outside his residence.
The raid follows the arrest of Russell Taylor, former executive director of the Jared Foundation, who was charged with production and possession of child abuse images in April.
Fogle, who became famous after losing 235lbs by what he said was a steady diet of Subway sandwiches paired with exercise, started the foundation to help eliminate childhood obesity. He said the foundation severed all ties with Taylor following his arrest.
Investigators told Fox 59 in Indianapolis that Tuesday's raid was connected to an investigation into child abuse images and that they were serving warrants.
Special agent Wendy Osborne of the FBI Indianapolis division told the Guardian that authorities are "conducting investigative activity in the area, the nature of which can't be discussed at this time". She refused to elaborate when asked if the raid of Fogle's home was connected to Taylor's case.
Subway on Tuesday said Fogle is cooperating with authorities and that he expects "no actions to be forthcoming". The company and its spokesman agreed the suspension was "the appropriate step to take".
By Tuesday afternoon, Subway had removed a link to "Jared's Journey", a section dedicated to Fogle and his weight loss experience. A Google search of "Jared's Journey" yields a link to the section on the website, but goes to Subway's homepage.
The restaurant chain rose to prominence with its advertisements featuring Fogle as the affable pitchman holding his pants and their oversize waistband over imagery of lower-calorie sandwiches.
In a statement, a spokesman for the company said: "We are shocked about the news and believe it is related to a prior investigation of a former Jared Foundation employee. We are very concerned and will be monitoring the situation closely."
Source: The Guardian